TELEMAXX is classified as leader in Colocation Services for Midmarket
in the ISG Provider Lens™ 'Next Gen Private/Hybrid Cloud – Datacenter Services & Solutions'
The demand for colocation and connectivity services in the German market continues unchecked, and the boom will continue for the next few years. The COVID-19 pandemic has greatly contributed to this; people are relying more and more on digital applications than ever before – using home offices instead of traditional offices, streaming movies instead of attending movie theaters and increasing their use of video conferencing. Convincing arguments for security, connectivity services, high availability and adherence to compliance guidelines are testimonies that are greatly valued by national and international client companies. The ISG Provider Lens™ quadrants were created using an evaluation matrix containing four segments: Leader, Product Changer, Market Challenger and Contender.

The "leaders" among the vendors/providers have a highly attractive product and service offering and a very strong market and competitive position; they fulfill all requirements for successful market cultivation. They can be regarded as opinion leaders, providing strategic impulses to the market. They also ensure innovative strength and stability.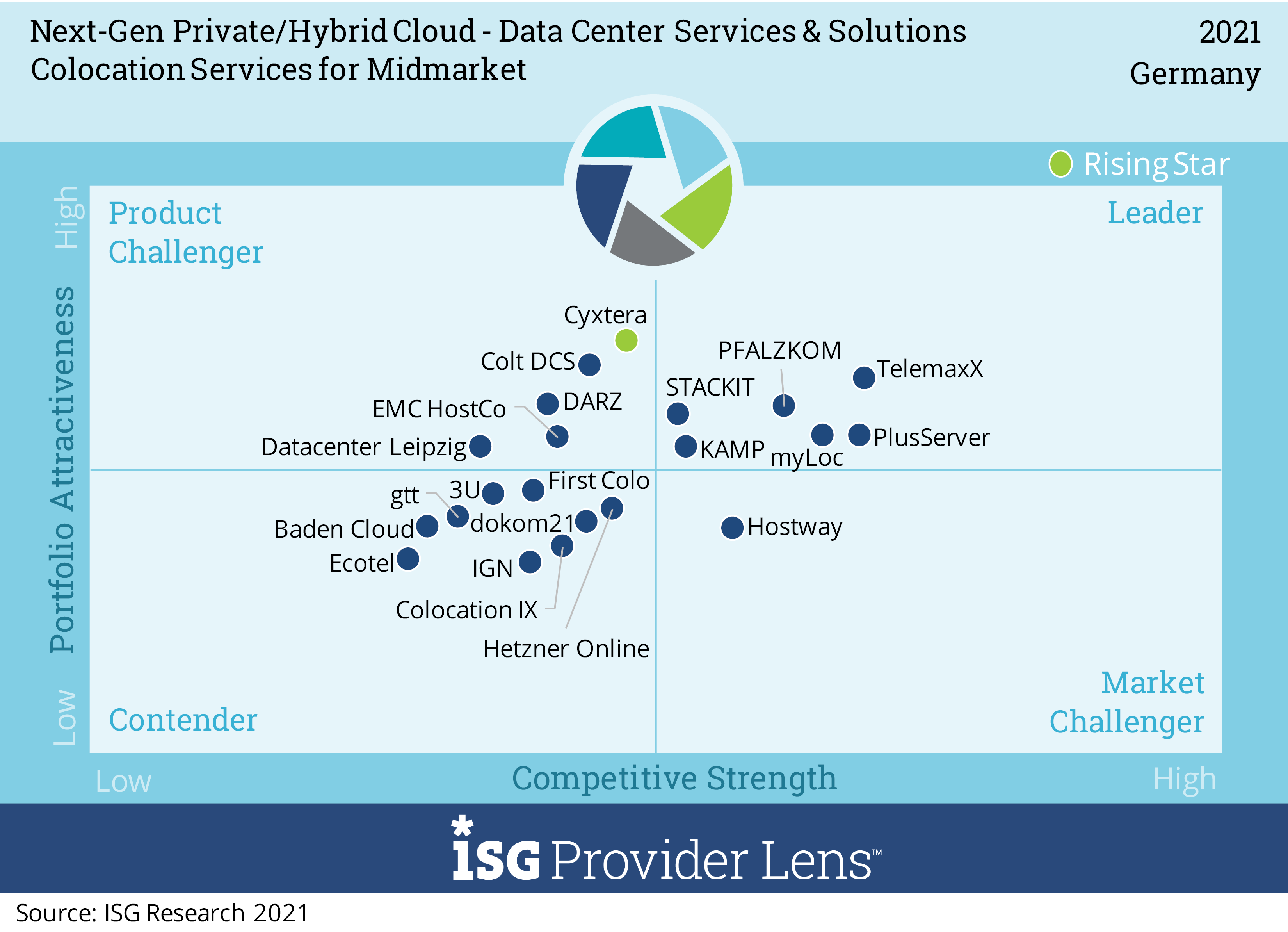 The demand for Colocation Services has increased
This category includes service providers that offer a commercial, standardized data center operation as a colocation service. This also includes providing a common access point for hosting providers, system houses, network operators, telecommunications providers and end users. Colocation services are mainly used by enterprise customers because they make data center available with standardized configurations, allow making a choice between network operators and enable low latency and low bandwidth costs, which, in turn, allow rich content or (runtime) time-critical information to be provided to users in and outside metropolitan areas.
ISG Provider Lens™
ISG Provider Lens™ delivers leading-edge and actionable research studies, reports and consulting services focused on technology and service providers' strengths and
weaknesses and how they are positioned relative to their peers in the market. These reports provide influential insights accessed by a large pool of advisors who are
actively advising outsourcing deals as well as large numbers of ISG enterprise clients who are potential outsourcers.
https://isg-one.com/research/isg-provider-lens