TELEMAXX IN THE 2022 ISG PROVIDER LENS™ "NEXT GEN PRIVATE /HYBRID CLOUD – DATACENTER SERVICES & SOLUTIONS", GERMANY
Leader in Colocation Services for Midmarket
The demand for colocation services on secure data centers remains high in Germany. Companies from the SME and midmarket segments and service providers outsource all or part of their infrastructure to secure colocation data centers, which offer a level of security that an in-house data center cannot provide. Colocation providers are expanding their floor space or building another data center.
The ISG Provider Lens™ quadrants were created using an evaluation matrix containing four segments: Leader, Product Changer, Market Challenger and Contender.
Leaders have a comprehensive product and service offering, a strong market presence and established competitive position. The product portfolios and competitive strategies of Leaders are strongly positioned to win business in the markets covered by the study. The Leaders also represent innovative strength and competitive stability.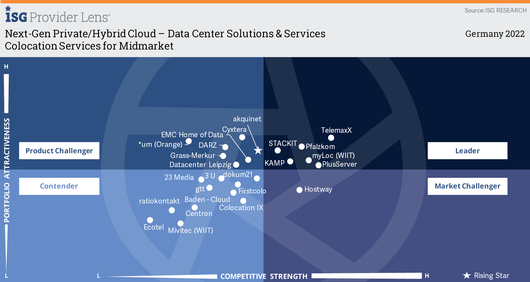 The demand for colocation services remains high
This quadrant evaluates providers that offer colocation services to midsize and large enterprise customers along with public sector organizations in standardized data centers. Participating companies offer community access points for hosting providers, systems houses, carriers, cloud and telecommunications providers, and end users. Enterprise customers who choose colocation services are looking for a standardized and sophisticated data center setup, numerous carrier options, and low latency and high bandwidth from data centers inside and outside major metropolitan areas at affordable prices.
ISG Provider Lens™
ISG Provider Lens™ delivers leading-edge and actionable research studies, reports and consulting services focused on technology and service providers' strengths and weaknesses and how they are positioned relative to their peers in the market. These reports provide influential insights accessed by a large pool of advisors who are actively advising outsourcing deals as well as large numbers of ISG enterprise clients who are potential outsourcers.
https://isg-one.com/research/isg-provider-lens